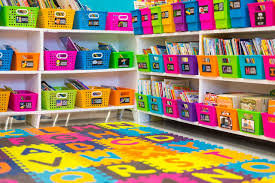 Michigan is facing a decrease in literacy achievement scores. As of 2016, it was one of the bottom ten states in early literacy based on the  National Assessment of Educational Progress Report (NAEP) scores, and is currently ranked 41st in the country. Michigan is projected to be 48th by 2030.
While there are many factors that contribute to the decline in literacy, one is access to print, especially for students with a low socio-economic status. A typical middle-class child enters first grade with 1,000 hours of being read to, while a child from a low-income family receives just 25 hours, typically due to the lack of books in their homes. Data indicates that in addition to increasing access to books, interaction with books is also important. The greatest impact on literacy is seen when the number of books available are increased in addition to working with teachers on methods to ensure children interact with books frequently and productively.
Students become better readers when they have access to books. Students in classrooms that have well equipped classroom libraries interact more with books, spend more time reading, demonstrate a positive attitude toward reading and exhibit higher levels of reading achievement. In addition, increased access to books allows teachers to address the essential components of reading: Phonemic awareness, phonics, vocabulary development, fluency and comprehension.
To help local school districts in Oakland County struggling with providing their students access to books, OSEF is raising funds to create classroom libraries and provide professional learning for classroom teachers on methods to interact with these new books.
Donate to this project.
Giving Levels:
1 book – $15
5 books – $75
10 books – $150
20 books – $300
Classroom – $3,000
Building grade level – $9,000
If you wish to support this project a higher level, please contact Andrea Berry at 248.209.2434.