WATERFORD, MI – This year, the Oakland Schools Education Foundation received 73 applications and awarded 25 scholarships to deserving high school seniors attending the four Oakland Schools Technical Campuses.
The scholarship program began in 1991 with a $300,000 contribution by DENSO International America and is administered by the Oakland Schools Education Foundation, where the top student receives a $2,500 scholarship and the remaining students receive $500-$1,500 each. Now known as the Tomorrow's Talent Today Scholarship,  awards are based on the applicant's personal goals, academic achievement in technical fields, internships, work experience, and financial need. The scholarships may be applied to any accredited post-secondary institution for tuition, books, and other course-related materials and fees.
The awards program on Monday, May 11, 2015 included remarks from Dr. Vickie Markavitch, Superintendent of Oakland Schools; Allan Kemp McMorris, Oakland Schools Education Foundation President and CEO of the Oakland County Credit Union, and featured speaker Mallori Wichman, 2004 Graduate of Cosmetology from the Northwest Campus.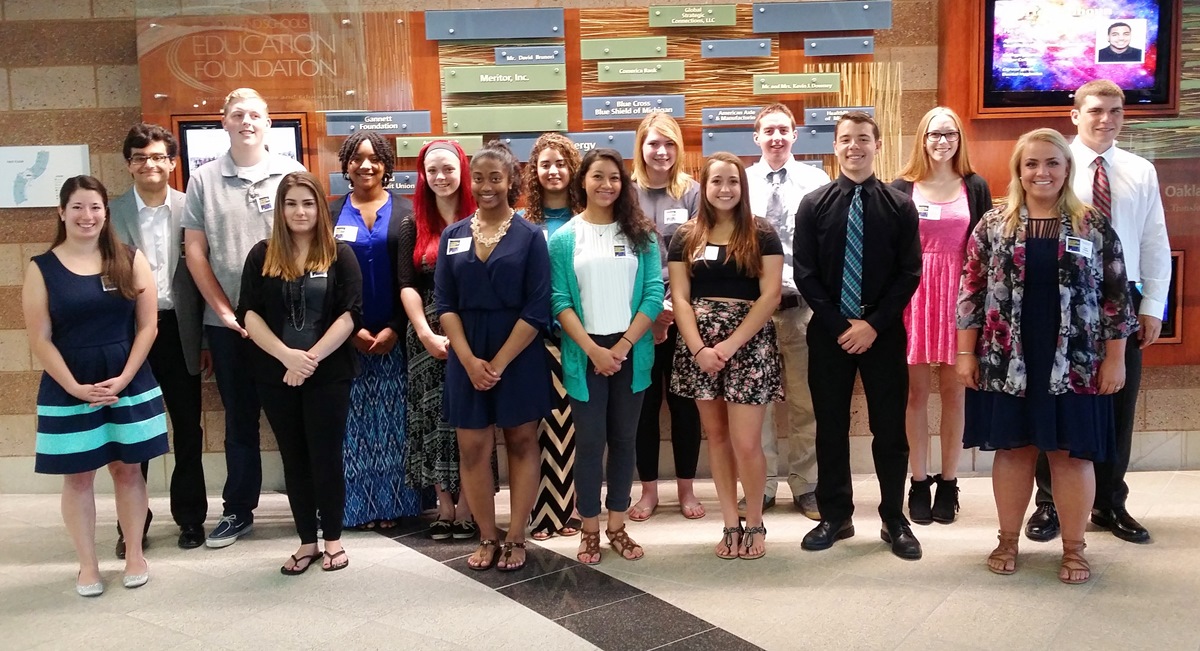 The recipient, cluster, and post-secondary institution they plan to attend are:
Oakland Schools Technical Campus Northeast (Pontiac)
LizMarie Negron, Cosmetology, Western Michigan University
Gabrielle Jackson, Cosmetology, Howard University
Kalie Roose, Cosmetology, Baker College
Knycoal Cameron, Cosmetology, Oakland University
Symphonie Crowder, Cosmetology, Oakland Community College
A'Johntae Dillon-Donaldson, iTEAM, Oakland Community College
Austin Earl Newby, Transportation, Oakland Community College
Oakland Schools Technical Campus Northwest (Clarkston)
Savannah To, Health Sciences, Oakland Community College
Kira Suzak, Visual Imaging, CA College of the Arts
Oakland Schools Technical Campus Southeast (Royal Oak)
Mykala Arnold, Health Sciences, Georgia Southern University
Joanna Barrientos, Health Sciences, Ferris State University
Evan DeCiantis, iTEAM, Adrian College
Bailey Graef, Health Sciences, Grand Valley State
Martez Calhoun, Health Sciences, Baker College
Lillian Istefan, Health Sciences, Macomb Community College
Thomas Salem, Health Sciences, Baker College
Sarah Toporowski, Health Sciences, Grand Valley State
Sarah Stephenson, Health Sciences, Grand Valley State
Oakland Schools Technical Campus Southwest (Wixom)
Jacob Elwell, iTEAM, Western Michigan University
Sarah Frisina, Health Sciences, Grand Valley State
Taryn Pollock, Health Sciences, Wayne State University
Kamryn Green, Culinary Arts, Johnson & Wales University
Jessica DuFresne, Health Sciences, Central Michigan University
Abigail Price, Health Sciences, Madonna University
Nicholas Wheeker, Transportation, University of Michigan-Dearborn