In 1991, a partnership began between Oakland Schools and DENSO International to fund scholarships for students attending Oakland Schools Technical Campuses. Since then, more than $390,000 has been given to students in engineering and technical studies programs who have not only been outstanding scholars, but leaders in and out of the classroom.
Now known as the Scholarships for Success Awards Program, $57,500 in scholarships was awarded during the 2018-19 academic year. Scholarship awards are based on interest and participation in Career Technical Education, academic achievement and career goals. Successful applicants may use the scholarship funds at any accredited, post-secondary institution, trade school or apprenticeship program.
Scholarships will be awarded on the basis of the information provided in the application including essay questions, letters of recommendation and CTE interest and involvement.
Congratulations to our 2019 winners!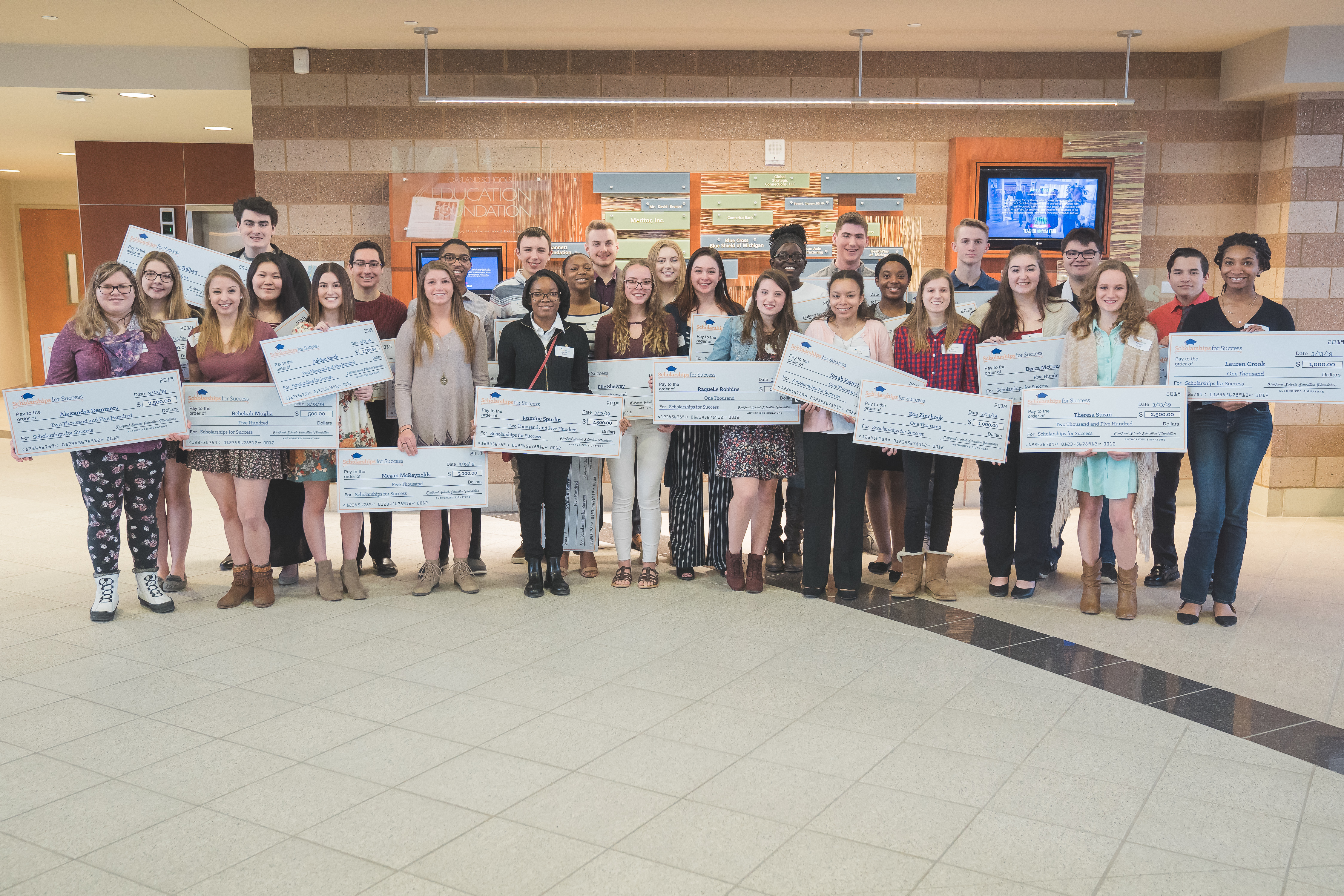 $7,500
Brandon Roux, OSTC-NW, Mechatronics
$5,000
Kevin Chinoski, OSTC-SE, Advanced Marketing
Aaliyah Hall, OSTC-SE, Advance Marketing
Ndeye Ka, OSTC-SE, Health Sciences
Megan McReynolds, OCTC-NW, Agriscience & Environmental
$2,500
Alexandra Demmers, OSTC-SE, Mechatronics (Williams International Scholarship)
Griffen Duggins, OSTC-SE, Automotive Technology (Williams International Scholarship)
Keara Paterson, OSTC-SE, Health Sciences
Ashlyn Smith, OSTC-NW, Health Sciences (Robert Moore Academic Scholarship)
Jasmine Spurlin, OSTC-NE, Culinary Arts & Hospitality
Theresa Suran, OSTC-NE, Cosmetology
Edgar Salvador Terrazas Jaquez, OSTC-NE, Computer Programming
$1,000
Lauren Crook, OSTC-SW, Culinary Arts & Hospitality
Sarah Eggert, OSTC-SE, Health Sciences
Hadley Galczyk, OSTC-SE, Health Sciences
Justin Kubiak, OSTC-SE, Machining (Williams International Scholarship)
Raquelle Robbins, OSTC-SE, Culinary Arts & Hospitality
Elle Shelvey, OSTC-SW, Health Sciences
Jamie Tucker, OSTC-SW, Computer Programming
Zoe Zinchook, OSTC-SE, Visual Imaging
$500
S'ymone Berry, OSTC-SE, Health Sciences
Chase Brown, OSTC-SE, Automotive Technology (Williams International Scholarship)
Javid Ditty, OSTC-SE, Cybersecurity
Spencer Martinez, OSTC-SW, Computer Networking
Becca McCourtie, OSTC-SW, Agriscience and Environmental
Rebekah Muglia, OSTC-SE, Health Sciences
Raquelle Petty, OSTC-NW, Health Sciences
Brianna Staton-Dauphin, OSTC-SW, Machining (Williams International Scholarship)
Remington Tolliver, OSTC-SE, Welding (Williams International Scholarship)