Oakland Schools Scripps Regional Spelling Bee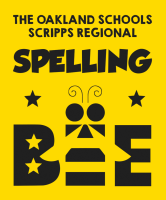 The Oakland Schools Education Foundation took over the Oakland County Regional Spelling Bee in 2018. We are proud to continue a long lived tradition in our county. Each winter, students in grades 5-8 who win their school spelling bees are invited to participate. The winner receives an all-expense paid trip to compete in the Scripps National Spelling Bee held in Washington D.C. the last week of May.
In 2019, 82 students participated in the bee on February 23, 2019. Our winner was Eleanor Limbaugh (8th grade) from Berkshire Middle Schools in Birmingham and our runner-up was Vikrim Goddla (grade 7) from Detroit Country Day in Beverly Hills, MI.
Thank you to our sponsor, the Ehlert Charitable Trust for supporting the event!