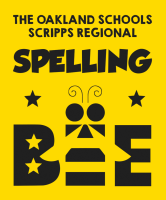 March 02, 2024 at the Oakland Center at Oakland University
Enrollment for the 2024 Spelling Bee is now open!
The Oakland Schools Education Foundation took over the Oakland County Regional Spelling Bee in 2018. We are proud to continue a long lived tradition in our county. Each winter, students in grades 5-8 who win their school spelling bees are invited to participate. The winner receives an all-expense paid trip to compete in the Scripps National Spelling Bee held in Washington D.C. the last week of May.
The Oakland Schools Scripps Spelling Bee is open to students in Oakland County grades 5-8, provided they do not reach the age of 15 on or before Aug. 31. Individual home-schooled children and home school associations can enroll as well.
Important Dates to Remember:
October 31, 2023 – Last day for discounted enrollment
January 31, 2024 – Last day of enrollment
February 12, 2024 – Must have completed school spelling bee
February 14, 2024 – Must have school champion registered on the Scripps website
March 02, 2024 – Oakland Schools Scripps Regional Spelling Bee
Thank you to our sponsor, the Ehlert Charitable Trust for supporting the event!