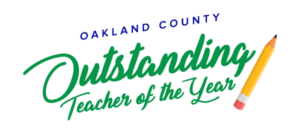 May 4, 2022
Flagstar Strand Theater, Pontiac
OSEF presents The Oakland County Outstanding Teacher of the Year Awards annually to honor and reward Oakland County teachers who have achieved the highest standards of excellence in their profession. Oakland Schools created these awards out of a conviction that a quality public education system is essential to the health and vitality of our community. Encouraging excellence in education is the shared responsibility of all who reap its benefits.
The Oakland County Outstanding Teacher of the Year award program began in 1987, sponsored by Newsweek and WDIV. This sponsorship continued until 2002. Since then various organizations have sponsored the event including The Detroit Free Press, The Detroit Newspapers, Comerica, the Oakland County Credit Union and the Oakland Schools Education Foundation.
Congratulations to our 2022 Winners!
Oakland Schools Outstanding Teacher of the Year is proudly sponsored by: